BABYLON A.D. – "Revelation Highway" VÖ: 10.11.2017
Band: BABYLON A.D.
Album: Revelation Highway
VÖ: 10.11.2017
Label: Frontiers Music/Soulfood
Babylon A.D. are proud to be one of the few hard rock bands from the late '80s/early '90s that are still operating with all of their original members: Derek Davis, vocalist/songwriter, guitarists and songwriters, John Mathews and Ron Freschi, drummer Jamey Pacheco and bassist Robb Reid. The band formed in 1987 and to celebrate their 30th Anniversary, the band will release their new album, REVELATION HIGHWAY on November 10, 2017.
BAND MEMBERS:
Derek Davis – Lead Vocals, Keyboards, Acoustic Guitar
Ron Freschi – Guitars & Vocals
John Mathews – Guitars & Keyboards
Robb Reid – Bass & Vocals
James Pacheco – Drums & Percussion
BIGFOOT – "Bigfoot" VÖ: 13.10.2017
Band: BIGFOOT
Album: Bigfoot
VÖ: 13.10.2017
Label: Frontiers Music/Soulfood
BLACK ACES – "Anywhere But Here" VÖ: 17.11.2017
Band: BLACK ACES
Album: Anywhere But Here
VÖ: 17.11.2017
Label: Off Yer Rocka/Cargo
Australian Hard Rock four piece Black Aces have returned with their second album Anywhere But Here, set to be released worldwide on British label Off Yer Rocka. Co-produced by the legendary Mark Opitz (AC/DC, INXS, The Angels, Kiss) and Colin Wynne (Bad Dreems), Anywhere But Here sees Black Aces deliver 11 tracks of raw, unadulterated Aussie Pub Rock.Recorded over 7 days at Melbourne's Thirty Mill studios, Black Aces have delivered on the promise of their barnstorming 2016 debut Shot In The Dark, with work starting on their second record whilst still touring the first.
"When we left Australia to tour Europe and the UK in September last year, we already had 20 or 30 songs floating around for the second album," says lead singer and lead guitarist Tyler Kinder."We spent quite a bit of time in the tour van listening back to them, picking out the good wood, and working together on lyrics, and talking about what we wanted to do once we got back to the shed in Bendigo."Once back in Australia, Black Aces- rounded out by rhythm guitarist Jarrad Morrice, bassist Alex McMillan and drummer Pete McMillan- locked themselves away in their rural hometown rehearsal space, a converted auto garage 2 hours north of Melbourne.
When they got news that Opitz and Wynne were interested in working with the band, rehearsals went into overdrive."Colin and Mark worked with a band from Adelaide called Bad Dreems who we all love, and the fact that Mark has essentially worked with half the bands in our record collection really sealed the deal for us. We were very lucky to work with someone of that calibre," says Kinder."Mark and Colin's idea was that a band should be a band. We recorded live, all in the same room, no click track, we don't use pedals or anything like that anyway. All the emphasis was on feel," says Morrice.
OYR CEO Jonni Davis is excited about what Black Aces can bring to his label "After a stunning performance at Hard Rock Hell's X T Anniversary last November , OYR Head Honcho Jonni Davis, knew that Black Aces were a sound that would do well on Off Yer Rocka, and here they are. The new album will make your balls vibrate, no doubt about it, as will their Thursday main stage performance at this years Hard Rock Hell on the 9th November.
Anywhere But Here sees Black Aces show remarkable growth from their debut, from the slow building stomp of album opener 'Show Ya How to Rock n' Roll', the shout along chorus of the album's title track, to the menacing groove of 'Where You Love From' and the ZZ Top tinged blues swagger of 'Short Changed'."We aren't necessarily trying to reinvent the wheel, but we are going to give it a bloody good spin," says Kinder.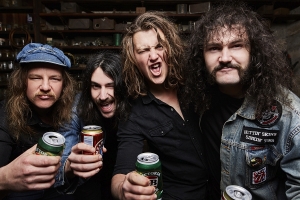 BLACKFIELD – "Open Mind: The Best Of Blackfield" VÖ: 28.09.2018
Band: BLACKFIELD
Album: Open Mind: The Best Of Blackfield
VÖ: 28.09.2018
Label: Kscope/Edel
BLIND EGO – "Liquid Live" VÖ: 10.11.2017
Band: BLIND EGO
Album: Liquid Live – CD/DVD
VÖ: 10.11.2017
Label: Gentle Art Of Music/Soulfood
Die Macht der Flut
Die Flut macht keinen Halt. Warum  sollte sie auch? Das Gleiche gilt für Blind Ego. Was lange ein Zusammenspiel progressiv-avantgardistischer Fieberträume war, ist zu einer veritablen Rock-Macht Deutschlands geworden, welche sich ebenso perfekt abgestimmt wie erbarmungslos ihren Weg bahnt. Im Rahmen der Live-Veröffentlichung Liquid Live kann man nun dabei zusehen, wie Hamburg und der Open Air-Bühne an der Loreley Lektionen in Sachen Rock-Gezeiten erteilt wurden. Welch ein Genuss!
Stream des kompletten Konzertes der DVD:
Blind Ego war lange Zeit ein sich verändernder Organismus, doch wo die kontinuierlichen personellen Wechsel jahrelang für evolutionäre Veränderungen gesorgt haben, ist seit der Komplettierung des aktuellen Lineups eine Konstanz eingekehrt, die der langjährigen Entwicklung Rechnung trägt und es ermöglicht hat, die Räder besser denn je ineinander greifen zu lassen. Dieses entspannte Selbstbewusstsein kann man spüren – die Flut weiß, dass sie ohnehin alles mit sich reißen wird.
Nun erscheinen unter dem Titel Liquid Live zwei spektakuläre Mitschnitte, die man im Rahmen der Liquid-Tour 2017 aufgenommen hat. Neben der Show im ausverkauften Hamburger Logo findet man auch die Aufnahme des Open Air-Konzerts im wunderschönen Amphitheater Loreley. Blind Ego demonstrieren hier nicht nur ihre Wucht, sondern ganz besonders ihre Variabilität: ob im stickigen Club oder Open Air, mal brutal, mal berührend, in anderen Momenten faszinierend, dann gar sexy – die Flut namens Liquid Live lässt sich nicht aufhalten. Dass sich ausgerechnet beim "Song Never Escape the Storm" Regenwolken über der Loreley ergossen, darf als günstige dramaturgische Fügung gewertet werden – das bedingungslose Ausharren jedes einzelnen Fans ist jedoch kein Zufall, sondern das Ergebnis der Wertschätzung für das hartarbeitende Kollektiv Blind Ego.
Auf der Bühne findet man fünf Musiker, von denen jeder für sich stets mutig die Flucht nach vorne antritt, was Liquid Live zu einer vor Energie schier berstenden Platte macht. Jeder Musiker für sich peitscht stets den Song nach vorne, wodurch man das Publikum nicht nur zum aktiven Element der Show macht, sondern es zudem vor sich hertreibt und ihm nur äußerst selten die Möglichkeit gibt, durchzuatmen. Ein Blind Ego-Konzert wird so schnell zu einem faszinierenden interaktiven Erlebnis. Das Lineup aus Scott Balaban (Vocals), Michael Christoph (Drums), Sebastian Harnack (Bass), Julian Kellner (Gitarre) und dem Gitarren-Virtuosen Kalle Wallner zeigt sich live als die hungrigste Blind Ego-Besetzung, die es je gab.
Die Shows in Hamburg und auf der Loreley zeigen fünf Musiker auf ihrem Höhepunkt: selten wurde metallischer Prog-Rock auf diesem Kontinent mit mehr Energie, Spielfreude und technischer Finesse gespielt: nie war diese Band besser, nie erbarmungsloser unterhaltend. Lassen Sie sich von der Flut ergreifen – sie wird Ihnen Spektakuläres zeigen!
Tracklisting CD "Live At Loreley":
A Place In The Sun
Obsession
Not Going Away
Don't Ask Me Why
Never Escape The Storm
Death
Hear My Voice Out There
Speak The Truth
Blackened
Tears And Laughter
Tracklisting DVD "Live At Logo Hamburg":
A Place In The Sun
Obsession
Not Going Away
Don't Ask Me Why
Never Escape The Storm
Death
Hear My Voice Out There
Speak The Truth
Blackened
What If
Tears And Laughter
Line-Up:
Kalle Wallner, Gitarre/Gesang
Scott Balaban, Gesang
Julian Kellner, Gitarre
Sebastian Harnack, Bass
Michael Christoph, Schlagzeug
Gast-Sänger: Arno Menses ("Blackened", Live at Logo Hamburg)
Tourdaten:
28.01.18 | D-Freising, Lindenkeller
01.02.18 | D-Aschaffenburg, Colos-Saal
02.02.18 | D-Oberhausen, Zentrum Altenberg
02.03.18 | NL-Zoetermeer, De Boerderij "Progdreams"
BLOOD OF THE SUN – "Blood 's thicker than Love" VÖ: 19.10.2018
Band: BLOOD OF THE SUN 
Album: Blood 's thicker than Love
VÖ: 19.10.2018
Label: Listenable Records/Edel