PHANTOM 5 – "Play To Win" VÖ: 13.10.2017
Band: PHANTOM 5
Album: Play To Win
VÖ: 13.10.2017
Label: Frontiers Music/Soulfood
Phantom 5 is BACK! After the success of their self-titled debut album, the brainchild of producer/guitarist (and for this record, bassist) Michael Voss and vocalist Claus Lessmann have returned with yet another incredible outing of impeccable German Melodic Hard Rock! Once again joined by Robert Boebel on guitars and keyboards and Axel Kruse on drums, these fist pumping anthems will tickle the eardrums of any connoisseur of melodic hard rock.
PHANTOM 5 – "Crossfire"
official video:
PHI – "Cycles" VÖ: 29.03.2018
Band: PHI
Album: Cycles
VÖ: 29.03.2018
Label: Gentle Art Of Music/Soulfood
Manch einer wird Vater, andere gehen ins Kloster, der Dritte entdeckt ein neues Instrument: der Weg zur entscheidenden Veränderung der kreativen Welt ist so diffus wie unvorhersehbar. Jahrelang suchte Phi-Mastermind Markus Bratusa nach dem goldenen Schnitt der Musik: die Mischung aus Rock n' Roll und künstlerischem Anspruch. Dann war er in der Küche unachtsam – und hatte die entscheidende Zutat für Cycles gefunden. Wer hätte gedacht, dass der goldene Schnitt einen Finger in Mitleidenschaft ziehen würde…
Pressestimmen zum 2014er Album:
Slam 8.5/10: "…den schon vorhandenen Fans und allen Prog und Art Rock-Liebhabern generell kann zum Kennenlernen dieses Longplayers nur geraten werden. … Dieses Album verlangt Aufmerksamkeit, verlangt Beschäftigung – und das ist gut so."
eclipsed 8/10: "…Meister im Erschaffen von kraftvollen und gleichzeitig atmosphärischen Tracks…"
Noisy Neighbours 14/15: "Alles in allem einer der stärksten Veröffentlichungen, die mir in letzter Zeit im Bereich Prog/Progrock zu Ohren gekommen sind: Innovativ, spannend, anders … ab 13.11. in Deutschland unterwegs, unbedingt hingehen und genießen."
Rocks 4/6: "Die Musik durchzieht eine schroffe Eleganz, die zwischen Spielweisen der Altvorderen und konkzentriert monolithisch musizierenden Neutönern wie Tool oder Meistern der düsteren Verdichtung (späte Porcupine Tree) pendelt."
Stormbringer.at – 4.5/5: "Mit "Now The Waves Of Sound Remain" festigen PHI den Status eines klassischen Power-Trios"
der-hoerspiegel.de 8/10: "…ein super Album für Entdeckungsfreudige."
InHard 5/6 (Soundcheck #4/20): "…höchst empfehlenswert…"
Planet Music (tt): "…ein weiteres Meisterstück… mächtiges Art-Rock Spektakel…"
Legacy Magazin 11/15: "So locker und dennoch tiefgreifend musizieren wenige Bands im deutschen Sprachraum, wenn überhaupt."
Westzeit 4/6: "So stellen sie den Prog-Rock-Klangkosmos in die Jetztzeit und packen dazu wunderbare Gitarrenriffs aus."
Break Out: "Beide Daumen hoch für ein inspirierendes Album ohne Ausfälle und einen klasse Sänger!"
Ostsee Anzeiger: "Mit ihrem aktuellen Album wandeln sie auf den Spuren künstlerischer Vorbilder wie Tool, Porcupine Tree oder Rush. Dabei beweisen die Österreicher nicht nur Können, auch viel Gefühl."
Classic Rock: "Mal schroff und kantig, dann ruhig und sphärisch, mal laut und fordernd, dann introvertiert und beruhigend, sind die Songs markant aber niemals eindimensional."
PINK CREAM 69  – "Headstrong" VÖ: 10.11.2017
Band: PINK CREAM 69
Album: Headstrong
VÖ: 10.11.2017
Label: Frontiers Music/Soulfood
HEADSTRONG marks the 30th Anniversary of German hard rockers Pink Cream 69! And what better way to celebrate than by adding yet another gem to their already spectacular discography! Produced by bassist (and renowned producer) Dennis Ward, HEADSTRONG sees the same line-up from 2013's well received "Ceremonial" album return to deliver fans another hard rocking set of quality songs, their 12th studio album overall. And as a special treat, the new release includes a bonus live album featuring songs from across the band's catalogue.
BAND MEMBERS:
David Readman – vocals
Alfred Koffler – guitars
Uwe Reitenauer – guitars
Dennis Ward – bass
Chris Schmidt – drums
PINSKI – "Sound the Alarm" VÖ: 27.04.2018
Band: PINSKI
Album: Sound the Alarm
VÖ: 27.04.2018
Label: Gentle Art Of Music/Soulfood
PINSKI – schreit und singt, verzerrt ihre Akustikgitarre, schreibt Songs, diewas zu sagen haben und wird manchmal richtig böse. Mit unfassbar viel Energie und Herz im Mund. Wer brave Singer/Songwriter Mädchen mithauchzarter Akustikgitarre mag, ist hier falsch.
Videopremiere der neuen Single, präsentiert vom ROCKS Magazin:
13.04. PINSKI – "Ugly Side" (Gentle Art Of Music/Soulfood)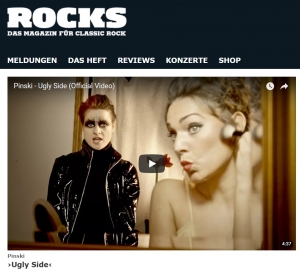 Slam – sweet 16 Album des Monats:  "Wer sich bei dieser Scheibe langweilt, dem ist sowieso nicht mehr zu helfen. Und Himmel, das ist ja erst das Debüt…"
Rocks 8.5/10: "Sie klingt offensiv, aggressiv, aber auch warm und herzlich. … Vor allem aber klingt das Quartett wie eine faszinierend groovende Einheit, die sich ihre Meriten auf unzähligen Bühnen erspielt hat. .. Alles richtig gemacht."
Pinski rockt ihre Songs mit ihrer stammbesetzten Pinski Band, die sich qualitativ hinter niemandem verstecken müssen und fühlbar Spass auf die Bühne bringen. Für alle, die gerne rocken und offen für was Neues sind!
Nach über 200 gespielten Konzerten und Festivals, die Pinski bis nachIndonesien führten, entschloss sie sich 2016 ihr Projekt mit einer Stammbesetzung aufzuziehen und mit ihnen ihr Debüt Album aufzunehmen. Dieses entstand in Zusammenarbeit mit Rockproduzent Fabio Trentini (Guano Apes, Donots, H-Blockx, The Intersphere, Subway to Sally uvm.). Pinski Fans dürfen sich auf Ende April freuen, wenn endlich die erste Platte rauskommt!
Hinter dem Spitznamen Pinski verbirgt sich Frontfrau Insa Reichwein, die den Namen während ihres Studiums an der Hochschule für Musik und Theater Köln verpasst bekam und ihn aufgrund ihres lebhaften Charakters nie mehr loswurde…
Herkunft: Köln
Gründung: 2011
Bandbesetzung:
Insa Reichwein – vocals, a-guitar, e-guitar
Ian Alexander Griffiths – e-guitar, backing vocals
Chris Streidt – Bass, backing vocals
Stephan Schöpe – Drums
PINSKI – live:
14.04. Alzey – Das Oberhaus (acoustic show w/ Lazuli)
20.04. Wuppertal – Live Club Barmen (w/ Demon's Eye)
24.04. Frankfurt – Das Bett (w/ Wille and the bandits)
26.04. Isny – Eberz (w/ Wille and the bandits)
27.04. AT – Hard – Kammgarn (w/ Wille and the bandits)
28.04. Homburg – Musikpark (w/ Wille and the bandits)
10.05. Düsseldorf – Pitcher (w/ Wille and the bandits)
12.05. Köln – Barinton (ALBUM RELEASE SHOW – Eintritt FREI!)
01.06. Ulm – Blaurock Festival (Co-Headliner)
04.06. Münster – Die ?-Show im Jovel Club
23.06. Lünen – Das Greif
07.07. Köln – CSD Festival (Bühne Alter Markt)
28.07. I-Malesco – Pirates Of Rock Festival
03.08. Osterholz-Scharmbeck – Gut Sandbeck Open Air
16.08. Bremen – Bluesclub Meisenfrei (Local Radios Rocking Safari)
18.08. Schwalmtal – KGB Festival
31.08. Geldern – Geldernsein Festival (Headliner)
08.09. Dormagen – Zons Rockt Festival (Co-Headliner to New Model Army)
06.10. Aukrug – Bobble Cap Festival
18.10. Oberhausen – Zentrum Altenberg
PONTUS SNIBB'S WRECK OF BLUES – "Too Late To Die Young" VÖ: 23.02.2018
Band: PONTUS SNIBB'S WRECK OF BLUES
Album: Too Late To Die Young
VÖ: 23.02.2018
Label: Off Yer Rocka Recordings/Cargo
PRAYING MANTIS – "Gravity" VÖ: 11.05.2018
Band: PRAYING MANTIS
Album: Gravity
VÖ: 11.05.2018
Label: Frontiers Music/Soulfood
Praying Mantis are pleased to announce their 11th studio album, "GRAVITY"! After the positively warm reception to the band's last studio album, 'Legacy' (2015), the new album sees the band returning with an inspired, take-no-prisoners set!
"GRAVITY" sees the band keep the same line-up featured on the successful album "Legacy", featuring Jaycee Cuijpers and Hans in't Zandt (vocals and drums respectively), who have truly provided a new dimension to the writing process and musical performances. Together with founding members Tino and Chris Troy and guitarist Andy Burgess, they have been instrumental not only in the writing of the new songs, but in providing a new vision in terms of the sound engineering and production.
One of the most influential and famous artists in the rock field, Rodney Matthews (Magnum, Diamond Head, Allen/Lande) has been commissioned to do the artwork for the album in the same style and stunning quality that so many fans loved on the original Mantis albums like "Time Tells No Lies," "Predator In Disguise" and "Legacy."
Praying Mantis are a well-established band of melodic hard rockers. They were formed by brothers Tino and Chris Troy in 1973 and together with bands like Iron Maiden, Def Leppard, Saxon, and others they spearheaded the NWOBHM (New Wave Of British Heavy Metal) movement. While they did not see the same dizzying heights of success as some of their contemporaries, Praying Mantis nonetheless became one of THE most influential bands of the NWOBHM. The band has remained active over the years and still record and plays live regularly.
BAND MEMBERS:
John Cuijpers – Lead Vocals
Tino Troy – Guitars & Vocals
Chris Troy – Bass & Vocals
Andy Burgess – Guitars + Vocals
Hans in 't Zandt – Drums
Links:
http://www.prayingmantis.rocks