SKARLETT RIOT – "Regenerate" VÖ: 27.10.2017
Band: SKARLETT RIOT
Album: Regenerate
VÖ: 27.10.2017
Label: Despotz Records/Cargo
After the success of their 'Sentience' EP, hard-hitting UK quartet Skarlett Riot soon began to attract interest from far and wide. Signing deals with TKO Agency and The Artery Foundation management were just the beginning for this highly rated act – soon they had signed a world-wide record deal with the pro-active and forward thinking Swedish label Despotz Records.
With the ink still drying on their contracts the four-piece, led by the unique and passionate vocals of Skarlett, headed back in to the studio to begin work on their hugely anticipated second album. The new material is harder, heavier, faster but still driven by the anthemic hooks that have kept this band at the forefront of the UK modern metal scene. The band have constantly developed and honed their craft; and the band are in comfortable in their darker and heavier guise, with elements of Asking Alexandria, In This Moment and Bullet for My Valentine shining through; opening up all new possibilities for the band. The result is the amazing new album – 'Regenerate'. Whereas their peers are all seemingly heading towards a lighter direction, Skarlett Riot are embracing the anger and aggression of the modern world and challenging it into some of their most challenging material to date. The commanding voice of Skarlett has taken on a bolder and more forceful presence, whilst the guitars of Danny are razor sharp and incisive, giving the rhythm section of Luke and Martin the room to progress and expand into a taut, almost hostile driving force, as the first single 'Break' ably demonstrates!
The regeneration is complete – Skarlett Riot are back!
SONS OF TEXAS – "Forged By Fortitude" VÖ: 22.09.2017
Band: SONS OF TEXAS
Album: Forged By Fortitude
VÖ: 22.09.2017
Label: Spinefarm Records/Universal
+ + +  RADIO PROMOTION + + +
SONS OF TEXAS – Beneath The Riverbed (Spinefarm Records/Universal)
SONS OF TEXAS (supporting Seether):
19.09.2017 Hamburg – Markthalle (DE)
20.09.2017 Köln – Live Music Hall (DE)
26.09.2017 Berlin – Huxleys (DE)
03.10.2017 Wien – Arena (AT)
04.10.2017 Linz – Posthof (AT)
06.10.2017 München – Backstage Werk (DE)
07.10.2017 Dornbirn – Conrad Sohm (AT)
09.10.2017 Zürich – Xtra (CH)
10.10.2017 Frankfurt – Batschkapp (DE)
11.10.2017 Stuttgart – LKA-Longhorn (DE)
Tickets gibt es unter: www.x-why-z.eu
Standhaftigkeit ist der Schlüssel zum Erfolg. Es ist die Fähigkeit, die Dinge trotz aller Widerstände zu anzunehmen wie sie sind und siegreich hervorzugehen. Eine Fähigkeit, geschliffen durch Jahre der stillen Hingabe, der Aufopferung und des Fleißes. Diese mentalen, physischen, emotionalen und musikalischen Umstände treiben Sons of Texas auf ihrem treffend betitelten zweiten Album "Forged By Fortitude" [Razor & Tie] an. Als stolze Schüler von Pantera, Alice In Chains, Stevie Ray Vaughan und sogar Vicente Fernández, the McAllen und dem TX quintet bäumen sich Mark Morales [Gesang], Mike Villareal [Schlagzeug], Nick Villarreal [Bass], Jon Olivarez [Gitarre] und Jes De Hoyos [Gitarre] aus dem Rio Grande Valley auf – mit übermütigem Hardrock getränkt in Metal-Komplexität, Grunge-Soul, Südstaaten-Blues und dem perfekten Maß an Tejano-Spirit.
"Wir haben alles was wir haben in Sons of Texas gesteckt", betont Jes. "Es geht um viel mehr als nur die grandiosen fünfundvierzig Minuten, in denen wir auf der Bühne stehen. Wir haben in den letzten Jahren gute Zeiten erlebt, aber auch richtig harte Phasen gehabt. Diese Momente führen dir vor Augen, wer du wirklich bist. Wenn du es schaffst, aus den harten Zeiten gut rauszukommen und dich nicht runterziehen zu lassen, ist das eine große Sache. Unsere Erfahrungen waren die Inspiration für den Albumtitel."
Es war ein wilder Ritt, seit sie sich 2013 in McAllen gegründet haben, einem Ort, der 238 Meilen von der nächsten Großstadt San Antonio entfernt liegt. In den nächsten vier Jahren machten die Jungs ihre Heimatstadt in Sachen Rock 'n' Roll bekannt. Direkt nach der 2015er Veröffentlichung "Baptized in the Rio Grande" gingen sie mit allen von All That Remains und Buckcherry bis hin zu HELLYEAH, Trapt und Texas Hippie Coalition auf Tour und traten zwischendurch auf Festivals wie dem Houston Open Air, Rocklahoma, River City Rockfest, Welcome to Rockville und Loud Park 16 in Japan auf. Das Debüt lieferte unter anderem die Titelhymne "Baptized in the Rio Grande", die über 990.000 Spotify-Streams und fast 600.000 Views auf YouTube/VEVO meldet – Tendenz steigend. Zusätzlich zu den Lobpreisungen von Revolver und Loudwire titelte Kerrang!, dass ihre Musik "mit jedem Ritt besser wird".
Nachdem die Sons Of Texas ihre erste Runde beendet hatten, gingen sie im Januar 2017 mit Produzent Josh Wilbur [Lamb of God] direkt wieder ins Studio, um gemeinsam weiter an ihrem typischen Stil zu schleifen. "Wir wollten uns in allen Hinsichten weiterentwickeln", fährt Jes fort. "Die Heavy-Teile wurden heftiger und die Melodie-Teile melodischer. Die Instrumentierung wurde interessanter. Das Ziel war, jeden einzelnen Aspekt zu verbessern." "Wir sind stolz, aus dem tiefen Süden von Texas zu kommen", lächelt Mark. "Das hört man auf der Platte. Wo wir herkommen, gibt es verdammt viel Kultur. Wir wollen die Botschafter des Valleys sein und der Welt zeigen, worum es bei uns geht."
Direkt mit dem ersten Track des Albums "Buy in to Sell Out" treten die Musiker die Tür ein. Nach einem Grollen aus unheilvollen Glocken und tropfendem Wasser, geben ein hieb- und stichfestes Riff und Marks schroffes, kehliges Knurren Vollgas. "'Buy in to Sell Out' ist eine Reflektion der letzten zweieinhalb Jahre, in denen wir unterwegs waren. Wir waren naiv und haben viel gelernt. Es reißt alle Aspekte an – vom Business bis zum heutigen Zustand der Rockmusik. Es ist aus purer Wut entstanden, ich mache einfach meiner Empörung Luft."
"Feed The Need" verfällt aus einem prügelnden Groove direkt in einen unmittelbar unwiderstehlichen Refrain, der sich an die wendet, die den Jungs auf ihrer Reise geholfen haben. "Die Unterstützung der Fans bis hierher hat mich inspiriert und ehrlich berührt" gibt Mark zu. "Uns haben so viele Leute unter die Arme gegriffen und uns mit Essen oder einem Dach über dem Kopf versorgt – von Flint in Michigan bis ganz runter nach Atlanta, Georgia. Sie haben nicht nur unsere Musik angenommen, sondern auch uns. Diese Hommage gilt ihnen."
"'Cast In Stone' ist einer dieser Songs, bei denen ich versuche, ein starkes Gefühl von Distanz zu allem und jedem rüberzubringen. Ich bin weder hier noch da, nicht jetzt und nicht damals, irgendwo zwischen der Vergangenheit, der Gegenwart und der Zukunft. Im Kern geht es um die Sehnsucht danach, irgendwohin zu gehören." "Beneath The Riverbed" bedient sich ihrer texanischen Wurzeln mit einem lyrischen Lick, das in einen Refrain "über das Leben auf Tour und wie man ackert, um dahin zu kommen wo man hinwill" übergeht.
"Turnin' the Page" wirft Licht auf ihr Händchen für wunderschöne Melodien und der letzte Track "Slam with the Lights On" serviert eine Ode an das "'rummachen" – eine seltene Hymne inmitten von Rock des 21. Jahrhunderts. "Die Stone Temple Pilots hatten 'Sex Type Thing' und Soundgarden hatten 'Big Dumb Sex'; Sons of Texas haben 'Slam with the Lights On'. Es ist ein Wohlfühl-Song, der einen zum Grinsen bringen kann." Am Ende aber verschafft "Forged By Fortitude" dem Rock 'n' Roll den überfälligen Arschtritt …
"Ich hoffe, dass die Hörer auf irgendeiner Ebene was mit dem Album damit anfangen können", erklärt Jes abschließend. "Es wäre großartig, wenn die Leute es aufdrehen und einfach Spaß haben." Und Mark fasst zusammen: "Ich hoffe, sie nehmen mit, dass Rock nicht tot ist und es da immer noch Integrität gibt. Das ist das ultimative Ziel."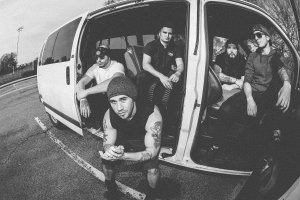 SPARZANZA – "Announcing The End" VÖ: 13.10.2017
Band: SPARZANZA
Album: Announcing The End
VÖ: 13.10.2017
Label: Despotz Records/Cargo
Huge guitars, high-octane pile-driving energy, choruses that wind around melodies that you cant't get out of your head and a darkness that never lets up –  these well-known elements of Sparzanza's music mean that their fanbase is growing. The band's street team "Black Cult" have outposts all over the world and together with the band, they can take pride in a twenty year career filled with explosive metal, prestigious award nominations, successful tours and radio appearances.
Sparzanza's most recent album "Announcing the End" is written in Spain with planned fall release. After twenty years, Sparzanza  reach out to a wider audience and sign with Swedish label, Despotz Records.
STEELHEART – "Through Worlds of Stardust" VÖ: 15.09.2017
Band: STEELHEART
Album: Through Worlds of Stardust
VÖ: 15.09.2017
Label: Frontiers Music/Soulfood
SWEET & LYNCH – "Unified" VÖ: 10.11.2017
Band: SWEET & LYNCH
Album: Unified
VÖ: 10.11.2017
Label: Frontiers Music/Soulfood
SWEET & LYNCH is centered around the talents of guitarist/vocalist Michael Sweet of  heavy metal stalwarts STRYPER and iconic guitarist George Lynch (LYNCH MOB, KXM, ex-DOKKEN) along with bassist James Lomenzo (ex MEGADETH, WHITE LION, BLACK LABEL SOCIETY) and drummer Brian Tichy (The Dead Daisies, ex-WHITESNAKE). "Unified" is the follow-up to their critical and fan acclaimed 2015 debut, "Only To Rise", which cracked the Billboard Top 200 and came in at #6 on the Top Hard Rock Albums, #17 on Independent Albums, #18 on Top Rock Albums, and #4 on Christian Albums charts.
An absolute must hear for fans of all of Michael Sweet and George Lynch's previous work and of course for those who enjoyed the band's excellent debut album!
Michael Sweet – lead vocals, guitars
George Lynch – lead guitars
James Lomenzo – bass guitar
Brian Tichy – drums
TANGERINE DREAM – "Quantum Gate" VÖ: 29.09.2017
Band: TANGERINE DREAM
Album: Quantum Gate
VÖ: 29.09.2017
Label: Kscope/Edel
Das neue Studioalbum "Quantum Gate" feiert 50 Jahre TANGERINE DREAM
Hier geht es zur You Tube Premiere von TANGERINE DREAM – "Tear Down The Grey Skies":
Kscope are extremely proud to be releasing the new studio album from Tangerine Dream, entitled Quantum Gate, on September 29th 2017, coinciding and celebrating the 50th anniversary of the foundation of the band.
Tangerine Dream have been a fundamental influence on electronic and progressive music since their formation in West Berlin, 1967. Inspiring genres, musicians and other art forms, from The Future Sound of London to Porcupine Tree, the widely popular TV show Stranger Things (for which their music also featured in) to seminal video game Grand Theft Auto V (for which they helped to write the soundtrack). The group, led by Edgar Froese, have received seven Grammy nominations, written over 100 studio albums and developed instantly recognisable synth-based instrumental music based on a meditative musical experience, that came to prominence in the 70s and 80s.
The new album, Quantum Gate promises an updated, contemporary development of their trademark sound: sequencer-driven electronica covering a wide range of moods and atmospheres from ambient soundscapes to energetic, upbeat moments.
The album began as a concept and series of musical sketches by Froese before he passed away in 2015. Remaining band members Thorsten Quaeschning, Ulrich Schnauss and Hoshiko Yamane worked together to realize Edgar's visions and expectations of a conceptual album that attempts to translate quantum physics and philosophy into music. New member Ulrich Schnauss comments: "at the moment hardly any other area of science questions our concept of reality (linearity of time etc.) as profoundly as research in Quantum physics – it's no surprise therefore that Edgar was drawn to these ideas since he had always aimed at reminding listeners of the existence of 'unopened doors'."
Thorsten Quaeschning, Tangerine Dream's long term collaborator elaborates further on the continuation of the band and Froese's vision "Recently Peter Baumann, part of one of the band's most influential 70s line-ups, remarked, that to him, Tangerine Dream is 'first and foremost an idea rather than a band' – and 'ideas could last for 100 years and beyond'. To me, though,  Tangerine Dream is a "band", which is one important part of TD´s strength. But I would totally agree with the idea that it could last for 100 years, because of the strong concept. And "Quantum Gate" is our first statement of the second half of that quest"
Quantum Gate was recorded at Eastgate Studios, Vienna & Townend Studio in Berlin from August 2014 to June 2017; mixing handled by Tangerine Dream's own Thorsten Quaeschning & Ulrich Schnauss; mastering by Birgir Jón "Biggi" Birgisson, Sundlaugin Studio Reykjavík, Iceland (Sigur Ros, Jon Hopkins, Spiritualized). The stunning album artwork was created by Froese's widow Bianca Froese-Acquaye
This new opus should be seen as both a new beginning and a testament to Edgar Froese's never-withering inspiration and ever-flowing creativity.
Quantum Gate tracklisting
Sensing Elements [13:33]
Roll The Seven Twice[06:25]
Granular Blankets [05:03]
It Is Time To Leave When Everyone Is Dancing [06:36]
Identity Proven Matrix[05:18]
Non-Locality Destination [09:59]
Proton Bonfire [08:25]
Tear Down The Grey Skies [06:17]
Genesis Of Precious Thoughts [09:10]
Quantum Gate is due to be released on CD / double gatefold LP and digitally (with digital pre-orders receiving "Tear Down The Grey Skies" as an instant download) and is available to pre-order HERE
TANGERINE DREAM LIVE
21st Oct 2017 – The Netherlands, Oirschot – Der Enck – SOLD OUT
22nd Oct 2017 – The Netherlands, Oirschot – Der Enck
7th Feb 2018 – Germany, Hamburg – Elbphilharmonie Hamburg – SOLD OUT
More shows to be announced soon ..
Track performer credits:
Sensing Elements –  Edgar Froese: Synthesizer; Thorsten Quaeschning: Synthesizer, Electric Guitar; Ulrich Schnauss: Synthesizer
Roll the Seven Twice – Edgar Froese: Synthesizer; Thorsten Quaeschning: Synthesizer, Electric Guitar; Ulrich Schnauss: Synthesizer
Granular Blankets – Edgar Froese: Synthesizer; Thorsten Quaeschning: Synthesizer, Electric Guitar & Bass Guitar; Ulrich Schnauss: Synthesizer; Hoshiko Yamane: Violin
It is Time to Leave When Everyone is Dancing – Thorsten Quaeschning: Synthesizer; Ulrich Schnauss: Synthesizer
Identity Proven Matrix – Edgar Froese: Synthesizer; Thorsten Quaeschning: Synthesizer, Electric Guitar; Ulrich Schnauss: Synthesizer
Non-Locality Destination – Edgar Froese: Synthesizer, Electric Guitar; Thorsten Quaeschning: Synthesizer; Ulrich Schnauss: Synthesizer; Hoshiko Yamane: Violin
Proton Bonfire – Edgar Froese: Synthesizer; Thorsten Quaeschning: Electric Guitar; Ulrich Schnauss: Synthesizer; Hoshiko Yamane: Violin
Tear Down the Grey Skies – Edgar Froese: Synthesizer; Thorsten Quaeschning: Synthesizer, Electric Guitar; Ulrich Schnauss: Synthesizer; Hoshiko Yamane: Violin
Genesis of Precious Thoughts – Edgar Froese: Synthesizer; Thorsten Quaeschning: Synthesizer; Ulrich Schnauss: Synthesizer; Hoshiko Yamane: Violin
All tracks composed by Edgar Froese, Thorsten Quaeschning and Ulrich Schnauss except 'It is Time to Leave When Everyone is Dancing' by Thorsten Quaeschning and Ulrich Schnauss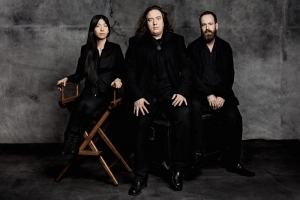 (photo credit Jim Rakete)